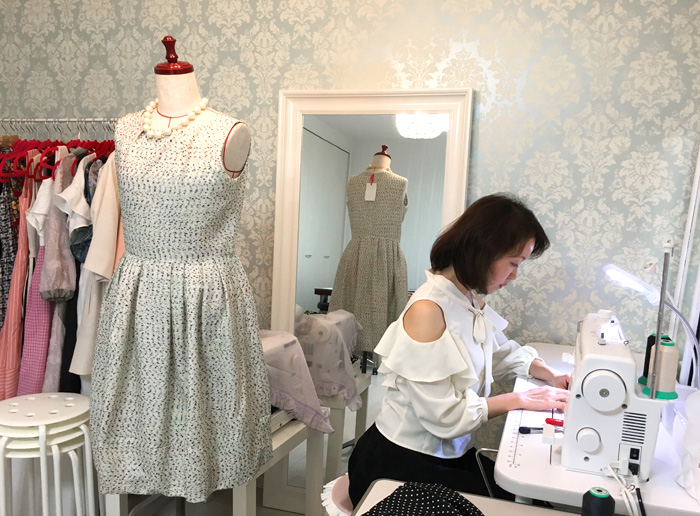 "It is so convenient that I wish I had introduced iPM earlier. I will never go back to manual processes."

by Keiko Iwasaki
Keiko Iwasaki

iPM user, owner of sewing school "FlorBlanca"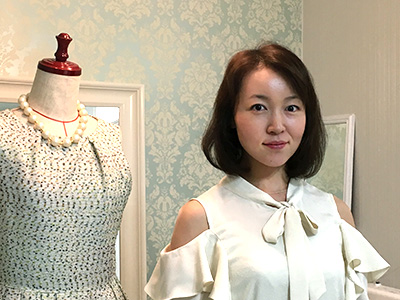 An iPM user, Ms. Keiko Iwasaki, has had a passion for dressmaking since she was a teenager and made her dream come true to open a dressmaking school named FlorBlanca in Osaka city, Japan. She also sells her original pattern pieces. She talks about the joy of teaching and what made her decide to introduce iPM.

– How did you come across iPM?
"When I started selling my original dress patterns, I also started receiving inquires from my students and customers. They wanted to buy other patterns or customized one. I had to face the limitation of time consuming handwork. I knew that If I continue this way, I won't be able to fulfill customers demands. I thought If I could do tracing, seam allowance and development on a PC, it could be done all in one shot ! Then I decided to use iPM".
"I knew that pattern making by PC was much more efficient. However, I was hesitant about introducing an expensive CAD system. This is because, my main job was dress making and teaching. Therefore, the high investigation was not cost-effective to me. Hence, I continued handwork. However, by chance several people told me that we could do pattern making only with Adobe Illustrator (AI) . Since I was able to use Illustrator, I was not hesitant this time. I began to master pattern making by Illustrator".

-How do you feel about using iPM?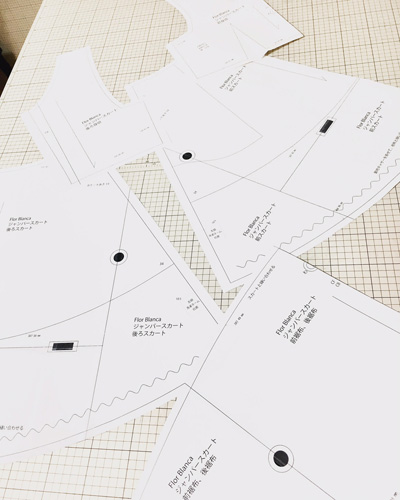 " I think we can only improve dressmaking skills by own experiences. Repeating of basting, stitching and correction would give you useful knowledge and experiences. For example, you wil be able to set up a preferable curve for the side line, if you had enough experiences for making patterns base on body movements. I think this point can be said for all methods. No matter whether you do handwork, use CAD or iPM".
"However, we can say that corrections can be far easy if we use Segment Tools. It is also easy to compare with the original line. By using iPM, you can save your time. I wish I should have introduced iPM much earlier. I don't think I can go back to handwork anymore".
"I have found out DBPalette is also useful. This is because, I can save particular words such as "fold" , "grain" and "gather". I also store typical symbols together. Whenever I need them, I just go to the palette. I am going to save more words sudh as "pocket" and "gauntlet" to enhance the function" .
"iPM allows me to easily measure curves and attach seam allowances, so it will definitely save me a lot of time. Besides, If I digitize my patterns, I won't have to bother about storing stock. It will be also easier to search previous works". 
"I am planning to use iPM more. I will create lesson materials with iPM for my school. I would like to increase dress patterns for my brand, FlorBlanca, and iPM will help. iPM will also help size adjustments for custom made clothes.
– How did you get started with your sewing school ?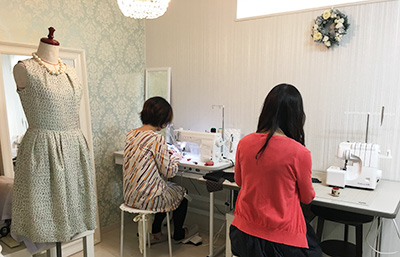 "I have loved and immersed myself in sewing since teenage. I had engaged myself to various apparel fields, such as commercial costumes, custom made clothes, patterns making, sewing and alterations. Furthermore, I had taught pattern making and sawing for 9 years at technical college. At the beginning I would not think I could teach students. However, once it started, the pleasure of teaching grew and grew. I enjoyed communicating with students. In 2010, I was encouraged by my husband, who said, "Why don't you have your own dressmaking classes, too?" and I started my sewing school named Flor Blanca. Actually, I had longed to become a teacher for my own school in the future. But, I never thought I would start so soon".
"In the classroom, I teach according to individual requests, such as "I want to try more difficult items", "I want to sell my handmade work" or "I want to make gifts to friends and family". You do not have to lean all. If you want to learn just sewing or you may want to study deeply about pattern making. Every approach is fine to us. We are flexible".
– What are your dreams for the future?
"I have always dreamt of becoming a crafter who can do both sewing and patterning, rather than a single carriar as a pattern-maker or a designer. Although I am still a novice as a tailor, I was fascinated by the depth of tailoring clothes and I admired my tailoring teachers, which brought me where I am today. I am now able to pass on my own skills and enjoyment to the members of my classes. It is really rewarding to see them grow and develop".
Ms. Iwasaki, who is a mother of two boys and continuing to pursue her own dreams, was very shining. We hope iPM will help her to create wonderful patterns even more efficiently !