Segment Tools : The essential plug-in for pattern drafting in Adobe Illustrator (AI)
Segment Tools can measure any curved objects and assist your work
With Segment Tools, you can measure complex curves on your draft. You can also create accurate notches. It will support your time-consuming jobs such as the adjustment of an arm hole. Your work will be improved dramatically faster with accuracy.
BPT-LT, a set of convenient tools, is also bundled.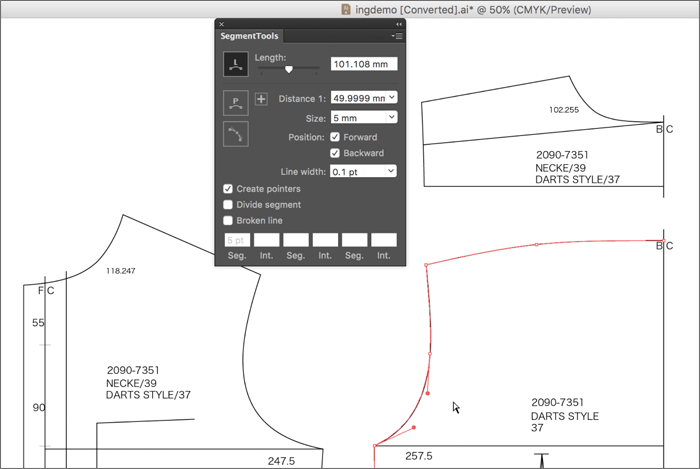 Main Tools in Segment Tools

Length Tool
You can measure the length of a straight line or a curve by simply selecting the part you want to measure. You can also input a numerical value to adjust the curve to a specified length.

Pointer Tool
Create pointers (notches) in precise positions in an instant.

Handle line Tool
This tool creates a bezier handle as a line, which is normally not displayed except when selected. It can also create another handle line on the opposite side of the line, which is useful when drawing an extended line.

Path/Point Adjust Tool
This tool allows you to know how two paths or points look when they are fit together. It is helpful to adjust the connection such as a shoulder line. You can undo the position by double clicking the tool button.
BPT-LT Tools bundled in Segment Tools

Fillet Tool – Addition
Add an arc to the corner.

Fillet Tool – Divide
Add an arc and divide the corner.

Fillet Tool – Remove
Replace the corner with an arc.

Slant Tool
Fix a slanted object or a segment in an instant.

Comment Tool
Add a comment with an arrow to your sewing pattern.

Numbering Tool
This tool is mainly used for numbering pattern pieces and components. It has a sequential numbering function that automatically counts up the numbers.

Length Comment Tool
A tool for indicating the segment's length.

Area Comment Tool
A tool for indicating the segment's area.
Segment Tools Product Information
Product Name
Segment Tools
Price
$99.00/year (Annual subscription)
System Requirements
Mac/Win OS that can properly run one of the following versions of Adobe Illustrator :
Macintosh : Adobe Illustrator 2022 (v26 and later) / 2023 / 2024
Windows : Adobe Illustrator 2022 (v26 and later) / 2023 / 2024
For Illustrator 2021, only the version 25.4.1 is supported.
Macintosh® is a trademark of Apple Inc. Windows® is a trademark of Microsoft Corporation. Adobe®, Adobe Illustrator® / Adobe®, Adobe InDesign® logo are trademarks of Adobe Inc. (Adobe). Other proper nouns such as company names and product names mentioned are trademarks or registered trademarks of each company.