Don't waste your own time searching for data.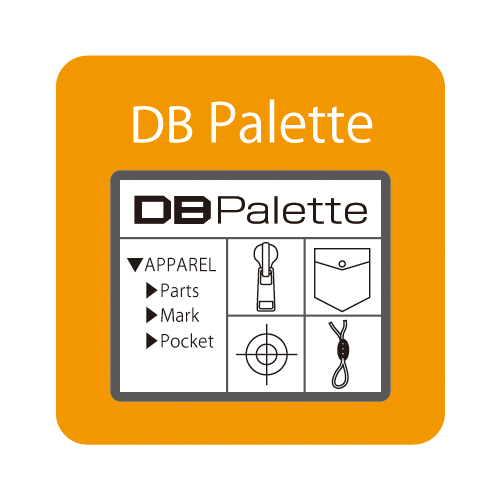 You won't say "In which folder did I save that image?" anymore if you implement DB Palette. This is because, DB Palette is a database plug-in which stores your image data in one place. Therefore, you can pre organize items that you commonly use in your projects. You can take them out instantly whenever you need.
Let DB Platte take care of database management and you may use your own resources for more creative work.
Supportable data:
Objects drew by Illustrator / texts / any image objects (EPS, JPG, GIF, PNG etc.) / Illustrator patterns / clipping mask / gradation / blend / brush
Place an object by Drag & Drop
In the first place. let's customise your palette. To register, you can just select an image and press a registration button in DB Palette. When you want to use the registered image, you can just simply drag and drop the image on the art board.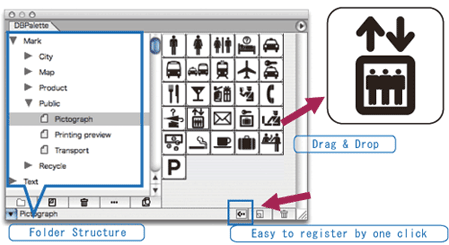 Help fashion designers
For example, DB Palette is very helpful organizing image objects as such :
Pattern pieces
Parts like pockets, buttons etc.
Direction texts and illustrations for spec sheets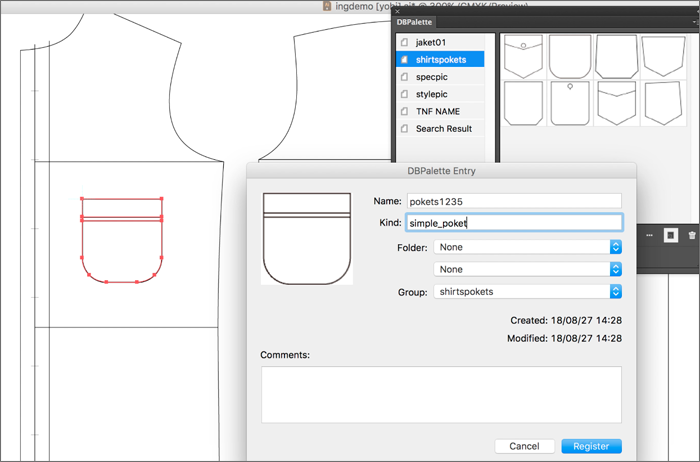 Easy to search items
What's more, DB Palette has following searching features. So that even there are numerous registered objects, you do not have to worry. You can find out instantly.
– Keyword search
– Organize images by folder and groups
– Sorting out by name
Product Information
Product Name
DB Palette
Price
$99.00/year (Annual subscription)
System Requirements
Mac/Win OS that can properly run one of the following versions of Adobe Illustrator :
Macintosh : Adobe Illustrator 2022 (v26 and later) / 2023 / 2024
Windows : Adobe Illustrator 2022 (v26 and later) / 2023 / 2024
For Illustrator 2021, only the version 25.4.1 is supported.